The New SciServer: Collaborative Tools for Data-Driven Engineering and Science
Jordan Raddick, Evelin Bányai, Joseph Booker, Tamás Budavári, Camy Chhetri, László Dobos, Lance Joseph, Jai Won Kim, Gerard Lemson, Dmitry Medvedev, Victor Paul, Mike Rippin, Bonnie Souter, Alex Szalay, Manuchehr Taghizadeh-Popp, Ani Thakar, Jan Vandenberg, Sue Werner, Alainna White, IDIES
Poster
SciServer is an online environment for research and education with big data, now being developed at IDIES with funding from the National Science Foundation. The system currently offers free access to big datasets online, with browser-based visualization and analysis tools. It is now being used by researchers and educators around the world to understand and share Petabyte-scale datasets.
Over the next few months, SciServer will grow to enable new ways to share data and analysis with colleagues worldwide. A brand-new SciServer Dashboard will offer quick access to prior work across all system components, with views of all accessible datasets and previously-submitted queries and scripts. The new system will allow scripts to run in batch mode, taking advantage of increased hardware resources and improved APIs. The new SciServer also simplifies data sharing and access control through a new workspace feature. Workspaces will allow for sharing many diverse types of data in the same manner, with sophisticated access controls allowing data providers to choose exactly who can read which datasets and write to which container filesystems.
All these new features will work together to make SciServer an even more powerful toolkit for research and education. The new system is currently being tested with "Early Adopters" within IDIES, working in diverse fields such as fluid mechanics, oceanography, astronomy, genomics, and materials science. We are actively seeking new Early Adopters, and we would particularly love to hear from teams with datasets they want to make available online. To learn more about our Early Adopters program, or to apply for an Early Adopter invite, please email the SciServer Helpdesk at sciserver-helpdesk@jhu.edu.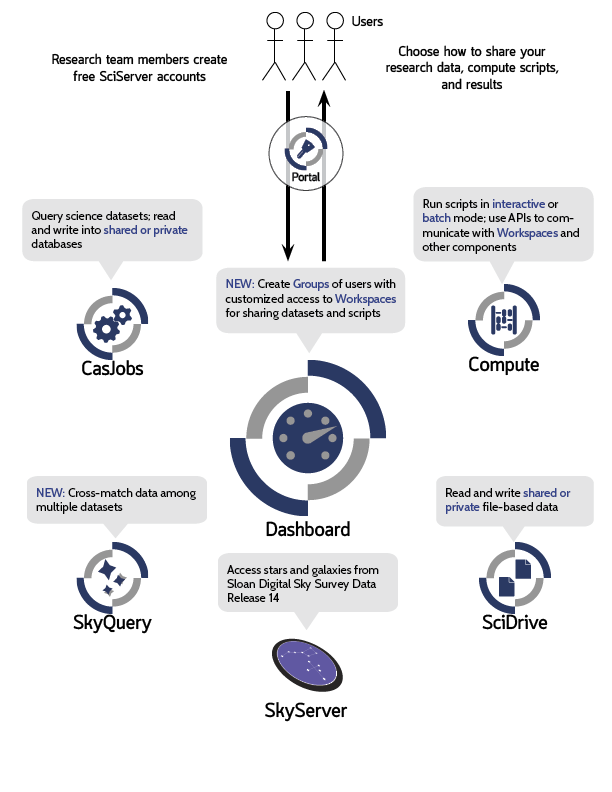 SciServer is funded by National Science Foundation award ACI-1261715. For more information, please visit www.sciserver.org.